Where To Find The Best 4K Movies
Streaming is the best way to find 4K Movies.  All 4K Ultra HD TVs are SMART.  This means that they come with the ability to connect to your internet.  You will need a fast internet speed if you are planning to watch 4K content.  However, internet these days is usually fast enough with a normal subscription.
Technology within the internet world has come a long way over the past decade.  Dial-up has been 'history' for many years, therefore you do not need to worry about your internet speed in most situations.
As far as streaming goes, you will need to buy a subscription to Netflix, Amazon Video or Hulu.  There are many other streaming services as well, however these are the companies providing the most 4K content right now.
Most 4K TVs come with many different TV apps including the ones above built into the dashboard.  As a matter of fact, my Sony 4K UHD TV contains over 150 different TV applications.  I mainly use only a handful including Netflix and Amazon Video.
Compared to the past, producing a movie or TV show has changed dramatically.  Today, there are more shows and 4K movies being made by these streaming companies than any other film company.  Netflix alone has over 150 TV shows and 4K movies available for streaming that they produced.  Amazon is similar.
Upscaling 4K Movies
What is so good about this is that these streaming companies are state of the art when it comes to film technology.  They are mastering these films using 4K resolution cameras systems.  This is what make 4K REAL or NATIVE 4K.  This is the best of the best when it comes to 4K content.
So, to not confuse you…there are other movies that were made in the past using 2K resolution (1080 HD) cameras.  Actually, most movies and shows made since year 2000 are 720 or 1080 HD format made with 2K resolution cameras. 
But, since 4K came out, producers have figured out a way to digitally enhance these HD films and then label them "4K".  These are NOT true, real,  native 4K films.  Instead, they are UPSCALED or UPCONVERTED.
SEE:      What Is Upscaling?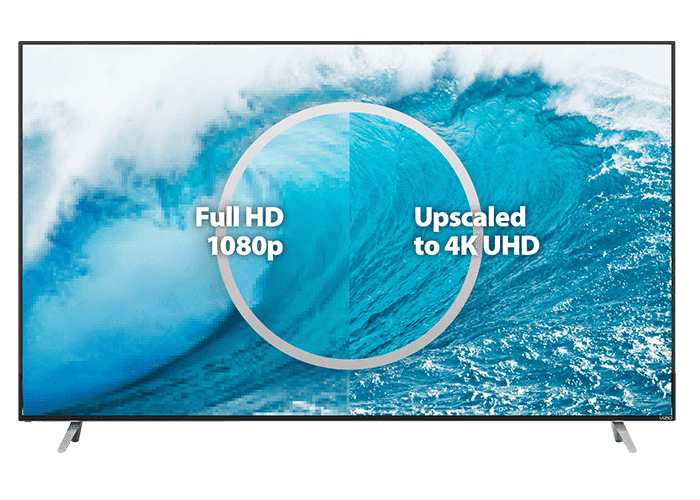 If you are new to 4K and you are thinking about upgrading….it is good to know that ALL 4K TVs do what is called UPSCALING or UPCONVERTING (these mean the same).
This is another reason why you can justify your purchase of a new 4K TV.  Producers are not the only ones using this upscaling technology to make movies higher resolution.  Your new 4K TV is going to do it as well.  It happen automatically as long as you are watching a minimum resolution film of 720 or 1080 HD.
Your new 4K TV will turn any HD movie into a 4K movie.  It will not be as good as real, native 4K films….but it will be a better picture image than what you would see if you watched the same movie in its original HD format. 
This is a HUGE benefit of owning a 4K Ultra HD TV.  Basically everything you watch is going to be digitally enhanced and look more real.
If you want to get the most out of your new 4K TV you need to watch real, native 4K Movies and TV Shows.  This means they must be produced using 4K resolution camera systems.  These 4K cameras are fairly new just like 4K TVs are about 4 years old. 
Prior to 4K commercial cameras, producers were taking 2K resolution camera-made films and turning them into 4K movies.  Well, they are labeling them "4K", however they are not the truest of 4K content (since no 4K camera was used). 
They are only upscaling the film from 1080 HD to closer to 4K resolution level.  Again, these are NOT bad to watch and they are better than any 1080 HD film.
However, we do not want people getting disappointed in their new 4K TV because they think they are watching the best 4K Movie when in fact it was only UPSCALED.
Below is a link we provide to help you discern exactly what you are watching.  It is a database listing REAL and FAKE 4K Movies & TV Shows.
Here is another helpful link below that provides you more details about REAL and FAKE 4K content.  Very helpful when you upgrade to a new 4K Ultra HD TV.
SEE:    REAL or FAKE 4K
If you are interested in streaming 4K content on your new 4K Ultra HD TV, we suggest you keep an eye on Amazon Video.  Amazon has been producing their own TV Shows & 4K Movies for several years now.  To our surprise, we have watched many of them and they are high quality!  The acting is terrific and the story-lines are very thoughtful and intense.
We are always checking on our Amazon TV application to see what is new.  Amazon has over 160 combined 4K Movies & TV Shows that you can stream after renting or buying the film.  If you are a PRIME member  (we highly recommend), then most of the 4K Movies are FREE to watch.
A PRIME membership with Amazon gets you many perks including FREE, 2-day shipping and many other discounts and benefits.  For under $100 a year, you can ship as many packages as you wish First Class and have them safely arrive within 2 days guaranteed.  This alone, is reason enough to buy a Prime membership at Amazon.
Lastly, if you want to watch the best-of-the-best in 4K content, then you need to purchase a 4K Ultra HD Blu-Ray Player.  Do not confuse the standard Blu-Ray Player which only does UPSDCALING with an actual 4K UHD Blu-Ray.  There is a major difference between the two.
Once you have the 4K Blu-Ray Player, you can then buy or rent 4K UHD Blu-Ray 4K Movies and TV Shows from various places.  Prices on 4K Blu-Rays have dropped significantly over the years and places like Wal-Mart are selling them for under $20.
The point is that out of all 4K content, streaming, etc…watching a 4K UHD Blu-Ray movies is like nothing else.  The graphics and picture image are the greatest this world has ever seen.  It will blow your mind.  It will stun you.  You will impress your friends and family bigtime.
Do not forget to buy the HDMI 2.0 cords required to hook up this 4K Blu-Ray Player to your new 4K UHD Television.  All of this can be found on Amazon.com.
Please Help Us By Sharing Our Site.