We wanted to make sure that everyone knows that 4K Ultra HD TVs are not just good for playing only 4K movies and TV shows.  Of course, with its resolution being FOUR times higher and better than 1080 HD…it is a desire to watch native 4K-filmed movies.
However, this is not the only reason why you should upgrade to a 4K TV.  There is another major reason that will help to justify your immediate purchase of a 4K UHD TV.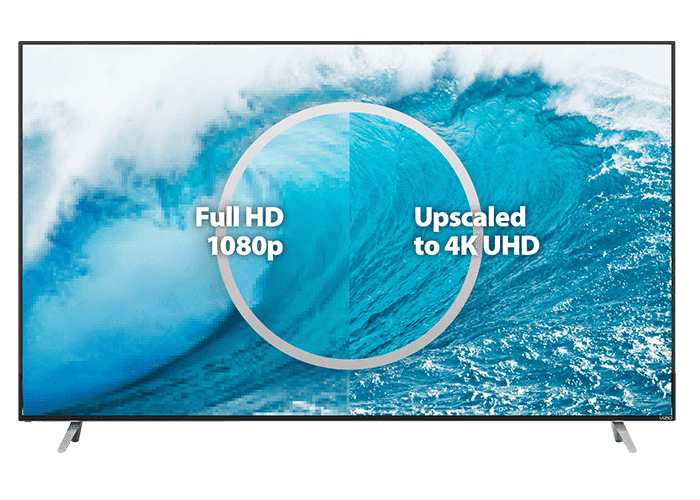 It is called UPSCALING or UPCONVERTING.  These mean the same.  Your 4K Television will automatically digitally enhance any High Definition (HD) film being played on it.  It must be at least 720 or 1080 HD in order for the upscaling to take place.
Basically, the upscaling means that it will enhance the HD film to fill in all of the extra pixels located inside a 4k display.  It basically stretches them and squeezes them in to fill the entire pixel field.  By doing this, your 4K TV will make the picture image look much better than what it would have looked like in its original format (720 or 1080 HD).  But, it cannot upscale to full 4K UHD.  It enhances it to somewhere in between 1080 and 4000-4K.
It is good for consumers to know this, so they are not disappointed because they were expecting the best possible 4K image that the TV could provide.  Upscaled content is NOT going to be the best your 4K TV will offer.
Above:   Note the difference in the image from Left to Right.  Upscaling takes a 1080 HD image and utilizes more pixels to increase quality.  *Note:  It upgrades to "near" 4K quality.  But, not full 4K UHD quality.  But, it is still better than 1080 HD.
If you want to watch the best of the best of all 4K content, you need to buy a 4K UHD Blu-Ray player and play 4K UHD Blu-Ray discs.  These have the greatest picture image that you will ever see on a Television today.  The image is so real and stunning that it will be hard for you to believe what you are seeing.  Its as if you are looking through a window at a real live scene with your bare naked eye-balls.  The image on the display is so true-to-life that it is jaw-dropping. 
Almost everything that you watch will be at least 720 or 1080 HD.  This means that most of the material will be upscaled for a better picture image.  This alone is a good reason why you should upgrade to 4K sooner than later.  There is really no need to wait.
In past years, consumers did have some good reasoning why they should hold-off and not upgrade to 4K UHD just yet.
Here are some of the (past) reasons NOT to Buy 4K:
 There is not enough 4K content to watch

The prices are too high

4K is too new to buy yet

Networks are not broadcasting in 4K

There isn't enough selection to choose from

No one else is 'hurrying' to upgrade to 4K
These are just some of the reasons why consumers have not purchased a 4K UHD TV.
We are here to tell you that these reasons are NOT true anymore.  Do NOT believe them.  Do NOT wait any longer before upgrading your TV. 
Reasons To Purchase A 4K UHD TV Today:
Prices are way down and similar to prices on a 1080 HD TV

There is massive selection of 4K TV, especially on Amazon.com

4K technology is not new anymore.  Its been around for 5+ years.

There is plenty of 4K content to watch

New 4K content is released every single day

Producers have begun filming in 4K

4K TV upscale all HD films being played
You see, there are many reasons why you can justify upgrading to 4K.  Figure out your budget, because we do recognize that Televisions are a big purchase in ones life.  We are talking about possibly more than $1,000….therefore it is a large lifetime purchase.  You want to be informed before you make a purchase.
Use our site www.4KADVICE.com to get educated.  Share this site that you can help others learn about 4K also.  Know what you would like to purchase before you begin shopping.  Use this site to research and learn about the best deals.
Amazon.com is the best place to buy a new 4K TV.  We purchased our first Sony 65-inch 4K UHD SMART television on Amazon and we saved over $300.  There are many cost-saving on Amazon.
They always have a special deal or discount products.  Below are some specific reasons why you should use our Amazon links throughout our site and allow them to take you to Amazon to begin your researching and shopping. 
Reasons To Use Amazon.com
Largest selection of 4K TVs on or off line

Lowest overall prices for 4K TV products

Fast, FREE SHIPPING.

2- Day shipping that is guaranteed and safe

Delivered to your front door conveniently

Avoid annoying in-store sales people

Read Honest Reviews from other purchasers on Amazon.com product pages

Compare prices in easy-to-read charts
Are you convinced that Amazon.com will provide you the best experience?  As you know from the media, brick and mortar stores are going out of business left and right.  They are closing down at an abnormal pace. 
The main reason for this is that consumers are shopping online.  They are using their smart phones or laptops to lay in bed and shop for their new 4K UHD TV or any other product.
Its convenient, fast, free to ship and guaranteed.  Not to mention you can save hundreds of dollars on Amazon.  We did some research and found that the same exact Samsung 4K Ultra HD TV was selling for $1,487 in the store.  But, on Amazon this same television was priced at $1,105.  The cost-savings are about $350!
Above:   Instead of going from 1080 HD upscaled to near 4K quality, in this image we see the difference between real, native 4K and an upscaled version to near full 4K.  Both are still impressive images and much better than 1080 HD.  ALL 4K TVs do upscaling.
This is a good reason to shop online at Amazon.  We have provided easy & convenient links on our RIGHT SIDE BAR and FOOTER to take you over to Amazon.  Thank you for using them which helps to support the cause of our site 4KADVICE.com.
---
---
Learn About UPSCALING.  Click Link Below:
---
Need To Learn More?  Go To Our 4K SCHOOL:
---
Please Share Our Site To Help Others Learn.