High Dynamic Range
HDR significantly improves content that looks washed-out or flat on a standard screen.
This type of technology works hand-in-hand with the Ultra High Definition 4K Televisions.  HDR was just discovered only a few years ago.  Since then, it has become a standard feature on all 4K Ultra HD TVs.
HDR has to do with the color gamut, luminance & color range.  It makes a major difference in the picture image and is extremely noticable if a TV does not have it.
Ever since the HDTV standard emerged in the mid-'00s, screen producers have struggled to come up with new standards that feel anywhere as impressive.
That's been a tough sell, as no baseline image standard has yet surpassed the quality jump from CRT sets to clearer panels with 1080p resolution support.
3D content came and went, with its unpopularity owing to a few factors (aversion to glasses, hard-to-find content). The higher-res 4K standard is holding up a little better, but its jump in quality just doesn't move the needle for average viewers—and certainly not those sticking to modestly sized screens.
But there's another standard that you may have heard about—high dynamic range, or HDR.  It's a weird one. HDTV, 3D, and 4K have all been easy to quickly and accurately describe for newcomers ("more pixels," "one image per eye," etc.), but HDR's different.
Ask an average TV salesperson what HDR is, and you'll usually get a vague response with adjectives like "brighter" and "more colorful." Brighter and more colorful than what, exactly?
Yet HDR may very well be the most impactful addition to modern TV sets since they made the 1080p jump.  Images are brighter and more colorful, yes—and in ways that are unmistakable to see even to the untrained eye.
Content and hardware providers all know it, and they've all begun cranking out a wow-worthy HDR ecosystem. The HDR difference is here, and with this much stuff on market, it's officially affordable today.
If HDR still has you (or your local retailer) stumped, fear not.  Today, we're breaking down the basics of high dynamic range screens: what exactly differentiates them, how good they are, and whether now is the time to make the HDR leap.
And as a bonus, we'll answer a bunch of questions about various screens and compatible content along the way.
And Yet, Another Format
With those three properties in mind, we can explore the two major HDR-related standards that have begun making their way into consumer-level electronics: HDR-10 and Dolby Vision.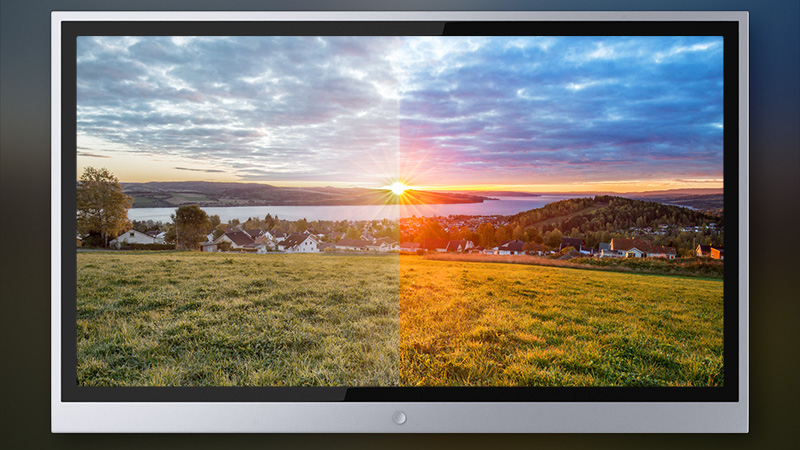 The standards have a few things in common, including support for 10-bit color depth, a jump to the Rec.2020 color gamut standard, and uncapped luminosity levels. (Current HDR-capable displays support roughly 65-75 percent of the Rec.2020 spectrum; they're more closely tuned to the DCI-P3 color gamut standard, which is still far wider than the standard found in standard HDTV content.)
Dolby Vision is technically the more ambitious format because it additionally supports 12-bit color depth and dynamic metadata. The former will, among other things, obliterate any trace of color banding—which you still might notice on images with 10-bit color depth.
The latter allows a video source to refresh its baseline color and luminosity levels at any time.
These specific upgrades will pay out on consumer-grade displays to come, but their perceptible bonuses are scant in the current market. 
As displays creep up into luminance differentials of 2,000 nits and beyond, that dynamic metadata will allow video sources to sweep out baseline metadata in order to better favor a pitch-black look into a starry sky; an outdoor, desert scene; or whatever high-octane sequence comes next.   
As luminance ranges grow, so will filmmakers' desire to control those more granularly, and Dolby Vision has set up such a payoff.
But current high-end consumer displays aren't there yet in terms of luminance differentials, and it makes the Dolby Vision-specific payoff that much harder to perceive compared to what HDR-10 delivers on current screens.
Plus, Dolby's standard requires a certification process and proprietary chips for both screens and media devices, which isn't going to help them win this emerging HDR format war.
For now, just remember: if you buy a set that includes Dolby Vision support, it also supports HDR-10, but not necessarily the other way around.
Annoyingly, you won't find a clearly marked "HDR-10" logo anywhere on modern HDR sets. Instead, different set manufacturers are adopting different logos.
The most common one is "Ultra HD Premium," which combines 4K resolution (3840×2160, or, four times as many pixels as a 1080p display) and the HDR-10 spec of luminance range, color gamut, and color range.
These have all been "UHD Alliance certified," and some set manufacturers, including Sony, would rather not pay for the certification.
HDR content, and how well a TV set or monitor reads and renders it, is a little harder to appreciate at a fluorescence-soaked big-box retailer. That's why those certifications are important in HDR's early goings.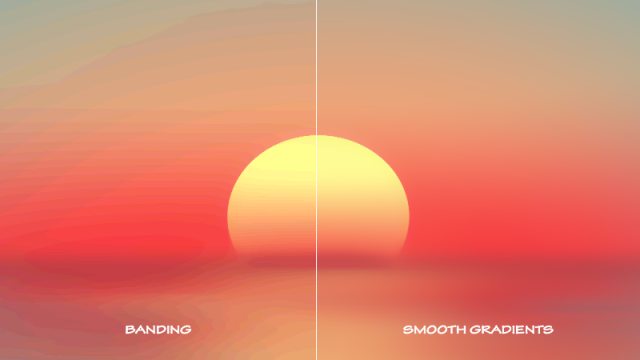 This has all gotten a bit technical for the average consumer.  We realize that, but we wanted to fully educate you about all of the most important changes to TV watching.
4K resoution is the biggest change since HD TV Flat Panels first came out.  Having FOUR times as many pixels in its resolution than a 1080 HD display has….make a huge difference in the picture image.
However, when you add HDR  (HDR Dolby Vision or HDR- 10) to the 4K display…..the most amazing picture presents itself.  The blacks are blacker and the whites are whiter.
There is no limit as to how many colors can be reproduced on film because HDR allows this.  Prior to HDR, they could only produce a minimum amount of colors and they would never fully match whatever was being filmed.
Great things are happening in the TV watching world.  After 17 years of enjoying HD TVs, it is now time to step it up and give consumers something far better.  
This is exactly what 4K HDR accomplishes.  It is a pleasure to watch TV on a 4K Television that contains HDR.
Thank You For Sharing Our Site.